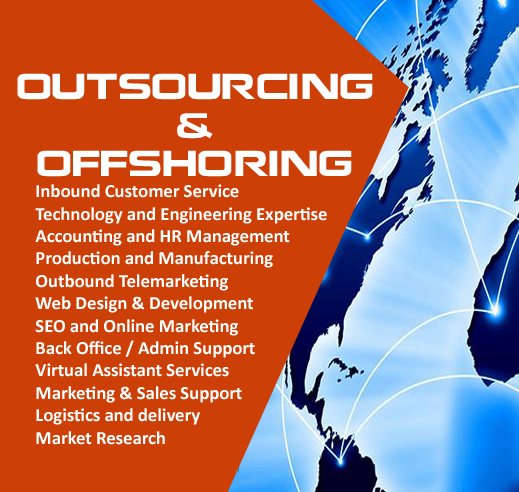 Our outsourcing services include both foreign as well as domestic subcontracting, offshoring (relocating a business function to a distant country) and nearshoring (transferring a business process to a nearby country) and help companies cut costs by way of financial savings from lower international manufacturing or labor rates.


We help organizations enter into contractual agreements involving exchange of services, expertise, production facilities and payments. Our outsourcing services have also helped firms to perform well in their core competencies, fuel innovation, and mitigate a shortage of skill or expertise in the areas where they want to outsource. We have developed Innovative business models and processes to help reduce the cost for outsourcing. In particular, these business models may leverage on group bargaining power by aggregating similar outsourcing demands from various organizations when negotiating with external contractors.



​Our outsourcing services allow small and medium-sized businesses to gain services and skills they would usually find hard to develop, because of either financial or manpower restrictions, or possibly a combination of both. Meaning, using our outsourcing expertise, one can grow his/her business as and when one needs to, without any major investment. It also allows businesses to focus on core competencies and, more importantly, cut costs and improve efficiency, all very much hassle-free. As time has gone by over the last decade or so, business owners now realize that there are many reasons that companies, both big and small, outsource various jobs, but the most prominent advantage seems to be the fact that it saves money.



Our expert outsourcing team also allows companies to focus on other business issues while having the details taken care of by outside experts. A perfect example would be knowing that telemarketing is the best way to get the word out in regards to a new product or service you're launching (either locally, nationally or internationally), but admitting that it's not really a particular company's forte. Such companies can hire an outsourcing company that provides these services, whilst they concentrate on getting ready for the influx of inquiries as a result of the campaign. It also means that a large amount of resources and attention that might fall on the shoulders of management professionals can be used for more important, broader issues within the company – which is always a good thing! The specialized company that handles the outsourced work is often streamlined and normally has world-class capabilities and access to new technology that a growing company simply couldn't afford to invest in on their own. Additionally, if a company is looking to expand, outsourcing is a cost-effective way to start building foundations in other countries, too.

Such tasks can be, but are not limited to, roles such as accounting, bookkeeping, sales and marketing, design and manufacturing, development, promotions, administrative and back office assistance, customer service, web development and much more.



Some of our outsourcing services include:

Inbound Customer Service

Outbound Telemarketing

Web Design & Development

SEO and Online Marketing

Market Research

Back Office / Admin Support

Virtual Assistant Services

Accounting and HR Management

Marketing & Sales Support

Technology and Engineering Expertise

Logistics and delivery

Production and Manufacturing


Our outsourcing services helps give away some of companies' business tasks that can easily be managed by an independent entity, making life easier for our clients. And most of the time, as well as being able to pass on these tasks to someone more experienced, the client also saves money, against hiring someone locally to do the same job – sometimes this can be as high as 60% !

Outsourcing has become a major trend in human resources over the past decade. It's the practice of sending certain job functions outside a company instead of handling them in house. More and more companies, large and small, are turning to outsourcing as a way to grow while restraining payroll and overhead costs. How can you make it work for your business?

We make sure the company we are hiring for outsourcing a client's process, is really capable to do the job. With our associate offices spread across twenty four (24) countries, we are in a solid position to carry out a first hand due diligence of the companies we hire to outsource various processes.

​Subcontracts India specializes in finding you a suitable contractor/ subcontractor within the country of your operation or outside. All you need to do is to fill in the form and let us organize the rest.