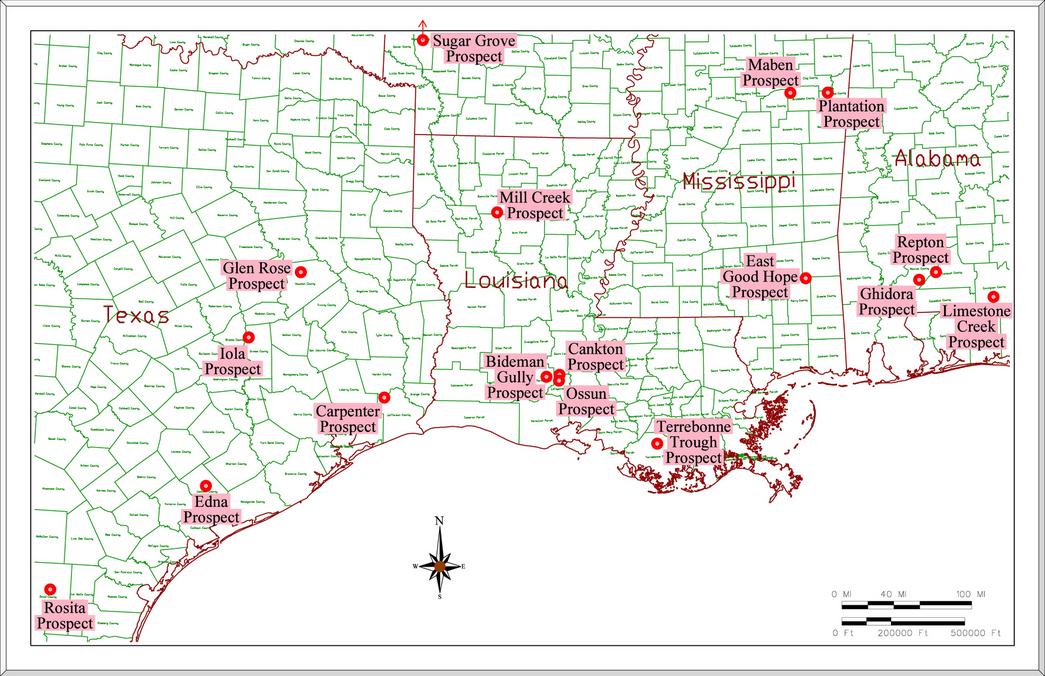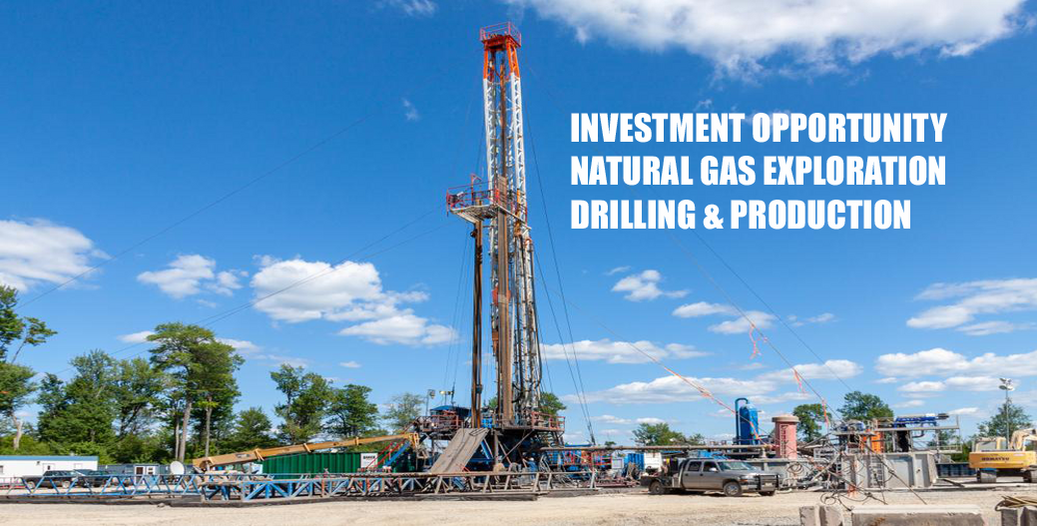 EXECUTIVE SUMMARY
Fundamentals point to an undeniable increase in future US natural gas demand. The existing domestic gas base is declining at 26% per year, new drilling is at an all-time low with most gas shale plays uneconomic, and the existing gas producers are in dire financial shape. EIA estimates a 2021 average gas price of 3.10 $/MCF, the NYMEX 5 yr. strip price is > 2.50 $/MCF and Goldman Sachs forecasts a 2021 average of 3.25-3.50 $/MCF.

New large reserve conventional gas fields located within the Gulf Coast's existing infra-structure are the only viable solution. The proven, repeatable method for discovering these fields is by drilling a large portfolio of conventional large reserve modest risk prospects.

XXX owns the largest Onshore Conventional Prospect Inventory in the USA. This includes the major oil co. and large independents alike. No other entity has anything close in size or scope with all large US E&P Co. committed to uneconomic shale plays and W. TX.

XXX has assembled >30 large reserve modest risk conventional onshore prospects with the first Phase I 15 Prospects having average reserves >400 BCFE each. The portfolio consists of several of the largest undrilled features remaining on the onshore Gulf Coast. All prospects are in known prolific petroleum systems with an analog large-giant oil and gas field on trend. XXX has expended >$40 MM and several years of time assembling this prospect portfolio.

Deal Proposal

XXX seeks an initial investor group (Partner) to fund $40 MM for the Newco to secure new leases on all prospects, engage the engineering/operations group to perform the requisite engineering, reimburse actual seismic expenditures, hire attorneys for title and other legal work, and regulatory agents to perform the unitization and permitting transforming our current prospect portfolio into a "Drill Ready" E&P company.

Within 1 year, Newco will perform a 2nd Round capital raise of $150-$250 MM to fund the drilling and development of the Phase I Prospects and/or Phase I/II Prospects. Many prospects have Follow-On Analog Prospects that become de-risked with an initial success. With the Partner's initial investment, Newco will have a fully staffed management team, technical team, and an elite engineering/operations group, and will have all leasing, engineering and legal work completed on its world class prospect portfolio making it a "Drill Ready" investment opportunity which virtually guarantees the 2nd Round fund raise and maximizes the retained interests and future profits, a win-win scenario for XXX and the initial Partner.

For the $40 MM investment, the investor (Partner) will own an undivided 50% of Newco.

We are structuring the Newco to be perfectly compatible with existing DrillCo structured funds which have gained popularity in the oil & gas financial community. The DrillCo structure allows for Newco to retain the maximum after payout interest (80%). Alternatively, the 2nd round fund raise could be transacted with institutional investors allowing for a retained 40-50% or in the worst case, a standard oil and gas industry 25% carried interest in the full prospect portfolio.

Economics

In aggregate, the first 15 prospects alone fully developed, have a risk adjusted expected PV10 Profit > $2.9 B. The Follow-On Phase I Prospects and an additional 15 Phase II Prospects in aggregate have a fully developed risk adjusted expected PV10 Profit = $1.8 B.

We expect Newco's retained interest in the Phase I Prospects alone to yield the initial Partner a PV10 ROI=10:1 in the minimum case, with the most likely case being a DrillCo structured promotion which is expected to yield the Partner a PV10 ROI >30:1.

Newco shall then endeavor to raise additional funding for the 15 Phase II Prospects and Follow-On Prospects and potentially an additional newly generated portfolio of prospects. Newco will retain additional carried interests in these prospects increasing investor returns.

We have spoken to prominent investment banks who are very interested in performing or assisting in this 2nd Round Funding. We have met also with several institutional investors who agree with our gas thesis, portfolio theory concept and await our 2021 Conventional onshore E&P opportunity. We have assembled a long list of DrillCos and other investor groups which are strong candidates for this project once assembled in the proposed format.

Partner's Risk

The lone risk for the Partner is Newco's ability to secure the 2nd Round financing for the drilling of the oil and gas prospects. This risk is viewed as negligible as this project will likely be the lone gas dominated large portfolio of ready to drill conventional large reserve prospects on the Gulf Coast available to investors in 2021. Timing for the 2nd Round promotion should be ideal due to the emerging US gas demand supply situation.

The Partner's $40 MM investment will transform our company and large prospect portfolio to a "Drill Ready" state which will make Newco extremely attractive to the investment community and should virtually guarantee the 2nd Round funding.

Conclusions

The Phase I Prospect portfolio will test 6.9 TCFE, the Phase II Prospects an additional 1.6 TCFE and in aggregate the Follow-On Prospects an additional 5.4 TCFE. Fully drilled the portfolio has a risk adjusted PV10 Profit > $2.9 B at 2.50 $/MCF and 40 $/BBL flat pricing for the 15 Phase I Prospects alone, not including the de-risked

Follow-Ons and Phase II Prospects.

The venture's low risk and large upside make this an extremely attractive risk- reward proposition. The venture can be viewed as a "pseudo land bank" which finances the acquisition and perfection of the prospect portfolio and the 2nd Round funding yielding XXX and our Partner significant carried interests in what should be the largest drilling venture on the Gulf Coast by mid-2021.

The Partner receives all monies back first and owns 50% of Newco and all retained interests secured from the promotion of the prospects. The Partner has an option to participate for a working interest in the drilling and development exercisable prior to the 2nd Round financing at preferential terms.

With no competition, a lack of conventional onshore US E&P expertise and the industry's commitment to unconventional resource plays, Newco has an opportunity to capture a significant portion of the US's onshore conventional oil and gas sector which has been completely ignored during the last decade.

Newco can become "The onshore US Conventional E&P Co.", (a franchise type of opportunity during the absolute nadir of a critical need industry in disarray).

Discussion Points:
Why Invest in the USA Oil and Gas Business?

USA Unconventional and Overseas Energy Prospects – Uneconomic

Why Invest in the USA Conventional E&P?

Key Tenets of USA Conventional Onshore E&P

Why Invest in SKH's Conventional Onshore E&P?

Why Invest in the "USA" Oil and Gas Business?

Sovereign Risk – The USA has a stable political climate especially when compared to many geologically attractive overseas countries (such as Middle East). The US is the only country in the world where the majority of the minerals are owned by private individuals or entities.

Infrastructure - The Infrastructure is already in place. Oil and gas pipelines and gas gathering systems blanket all of the major sedimentary basins. The major service companies have local offices to handle the needs of the drilling and completion rigs. Oil field expertise and technology is the best in the world.

Ready Markets – Oil and gas is still in short supply to handle internal consumption. We still import over 50% of our oil. We are currently consuming 22 TCF of natural gas per year with several LNG export facilities expected to be operational to export gas (>2.5 TCF/Year) in the next two years.

Drilling Costs – Drilling costs are down almost 50% from just one year ago. Over 1,000 drilling rigs are idle (rig count has decreased from 1,800 to 775). Service Company's costs are similarly down 30-40%.

Oil and Gas Prices - Oil prices are close to the published West Texas Intermediate (WTI) except along the Gulf Coast where they are priced higher at the LLS price (closer to Brent Prices). Gas along the Gulf Coast is priced at close to the Henry Hub price published on the New York Mercantile Exchange.

Unconventional USA Plays and Overseas Projects - Uneconomic
USA Unconventional Oil and Gas Plays - At today's oil and gas prices, most of the unconventional projects in the USA are uneconomic for the foreseeable future. Most unconventional gas shale plays in the continental USA have break even prices equal to 4.00- 6.00 $/mcf. The unconventional oil plays have breakeven prices equal to 75-100 $/barrel. Many of these plays were initially acquired by large independents (Chesapeake, Devon, etc.) who partnered with large multinational entities (Statoil, Total, Sinopec, Reliance, etc.) through substantial billion dollar promotions. The core areas of these plays were identified since 2005, and have been largely acquired and developed during the last 5-10 years. The remaining undrilled play areas are peripheral to the core areas and have even less attractive economics.

Deep Water Oil Plays – The costs are too great to justify exploration and development at today's energy prices. These projects take years, sometimes decades to permit, drill and develop and require a super major oil company's time frame and capital resources. Almost all of the world's attractive deep water basins are leased by the super majors or in multi- national or in government control.

International Oil and Gas Projects – Due to high costs and poor infrastructure, even onshore or shallow water plays are difficult to justify at today's prices. The production sharing agreements (PSA) require the exploration company to bear all of the risk, with majority of the profits going to the government entity issuing the foreign concession. Most of the attractive prospects in both shallow water and onshore foreign basins within stable countries have been exhaustively drilled up over the last several decades.

Why Invest in the USA "Conventional Onshore Oil and Gas" sector?
Inexpensive Finding and Development Costs – Conventional reservoirs do not require expensive horizontal drilling, or even more expensive large frack jobs. The finding and development costs of conventional prospects are a fraction of the costs of the unconventional (usually < 10 $/bbl.).

No Competition – All the Major Oil Companies left the onshore USA for multibillion dollar deep water and overseas projects decades ago. The Large Independents also ventured internationally and in deep water seeking large capital deployments, but starting around 2000, they made large investments in the unconventional shale plays of North America. Smaller independents followed. Private Equity Funds invested tens of billions almost exclusively in unconventional resource plays. By 2000, the onshore conventional exploration frontier was left to a few privately owned E&P Companies. There are only a dozen small entities remaining actively exploring the USA's conventional basins.

Inexpensive Leasehold Costs – All leasing for the last decade has been focused on the unconventional shale basins driving leasehold prices wildly upward (up to 20,000 $/acre). The oil and gas leases in conventional basins which have been ignored can be acquired for approximately 150-350 $/acre.

Vast Inexpensive 3D Seismic Coverage – Most of the major sedimentary basins have now been shot with modern high quality 3D Seismic Data. Although there remain seismic surveys which are currently proprietary, the vast majority is now controlled by several seismic library type companies (i.e. Seismic Exchange Inc. (SEI). They resell the seismic data at small fractions of the original acquisition costs.

Leading Edge Seismic Processing – The world's largest geophysical processing companies are all based in Houston, Texas. They have made major advances in AVO technology, Full Waveform Inversion, and other processing techniques in just the last several years. Applying these techniques to the large data 3D Seismic Surveys allow geophysicists to develop prospects which could not be previously imaged. This is especially true when applied to areas with known geology and well control tied to the seismic data.

Well Known Geology – Most of the USA sedimentary basins have very well-known geology which offers a much lower risk exploratory setting than in a frontier area with little well control or geophysical control. Modern application of geological principles in these areas yields excellent risk reward prospects.

Perfect Storm for USA Exploration - The prolific USA Gulf Coast offers a perfect storm of a well-known geologic setting, inexpensive available modern 3D Seismic Data, Inexpensive leasehold, cheap drilling and development costs, when combined technologic advances in geophysical processing, modern seismic stratigraphy, and application of advanced geological understanding all combined with no industry competition makes today's USA Onshore the ideal place to conduct conventional exploration. Even with a lower commodity cost environment, these technological advances have drastically increased the probability of success for conventional prospects therefore increasing the overall profitability for conventional multi-well drilling projects.

Technologic Advances in Drilling and Completion Practices – Horizontal drilling and multi- stage fracking created the boom in unconventional resources plays. These methods can also be applied to prolific conventional oil and gas discoveries to increase flow rates and increase hydrocarbon recovery.

Timing - The contrarian timing of this venture during the nadir of the onshore exploration and production business, should be ideal, as we expect it to take approximately two years to drill and develop these prospects, which may correspond to the time frame for oil and gas prices to rebound.

Future Value of Reserves - Unconventional producers which initially decline at 60%/yr. have the majority of their reserves produced at current prices. Conventional discoveries decline at much slower rates which mitigates the effect of short term prices, as their reserves will be largely produced at higher oil and gas prices in the future. This difference in decline rates radically affects the future value and net present value of the oil and gas discovery.

Key Tenets of Domestic USA Onshore Conventional Exploration?
Do not Invest with Majors or Large Companies in E&P – Large well financed entities do not need capital for conventional prospects which offer exceptional rates of return with moderate risk. They do not have a shortage of capital, in fact, what they really have is a shortage of quality exploration prospects. If the prospect is of high technical quality they would drill it themselves and not offer it to outside investors. Any Prospect offered for sale from a well-capitalized entity should be viewed as suspect. Good prospects are hard to find, so why would a well-financed entity "give away" such an opportunity?

Do not invest with a Start-up E&P Company or Management Groups without Prospects - The major risk is that they usually have no assets or portfolio of prospects. Startups and smaller oil and gas companies do not have the technical and financial resources or the time horizon to originate a portfolio of oil and gas prospects. Large amounts of capital can be expended with no guarantee of future prospects.

Do not invest in Single Oil and Gas Prospect - They have the binary risk of complete monetary loss. Even a prospect with a probability of success of 50% will fail 50% of the time. One must invest in a portfolio to minimize the overall project risk. If you drill 5 wells each with a probability of success P(s) = 50%, there exists a 96.875% probability of at least one discovery.

Invest in a Portfolio of Conventional Onshore Prospects - A portfolio of moderate risk, large to giant reserve onshore conventional prospects is the most profitable investment in the energy sector. The challenge is to have a large enough portfolio of prospects (outings) to delimit the risk associated with each, all owned by one entity, all at the same time.

Invest with a group who has extensive Onshore E&P experience - There are only a few remaining groups active in the Gulf Coast USA whom have the requisite onshore conventional E&P experience and expertise. One must have local geologic and geophysical expertise to be successful onshore USA.

Why Invest with XXX Onshore Conventional E&P Portfolio?
XXX is one of few remaining groups with expertise and a Portfolio of Onshore Conventional Prospects
We are confident that we have just that, enough large reserve prospects with low enough risk associated with each to diminish the overall project risk. For one private entity to own a significant portfolio of large to giant, moderate risk prospects should not be minimized. We know of no other company or entity that has anything remotely comparable with in the onshore USA. Our portfolio of prospects is in most respects our lifetime of work. Each prospect was generated in an area where we had either worked for years or put a multi-year effort into exploring with millions of dollars of geophysical investment. In many cases we see private equity invest with respected long lived management teams with either a strong track record or with impressive accomplishments at their previous employment. Although we believe our management group is extremely talented, with an excellent history of achievements in the E&P business, I would like to humbly point out that an investment with us is more than that. The group has not only worked together for the last 20 years but we have assembled a fully seismically delineated prospect portfolio. Thus the risk of the selected management team acquiring the asset to monetize has been eliminated.
Many of the prospects are individually large enough to pay out the entire project. Most of our prospects have a probability of success above 50%.
We believe that XXX with a strong financial partner has an opportunity to capture a significant portion of a sector of the US oil and gas business (the Lower 48 Conventional) which has been almost been completely ignored during the last 10 years (a franchise type of opportunity)